India Travel WITH Experts You Can Trust
Juan Vilalobos and his family from Spain during their trip through the Himalayas, Kadhmir, Leh and Ladakh
Here are 8 good reasons why you should book your India Trip with us and travel through the country with peace of mind!
Worry-Free Travel during the COVID-19 Era
As a safeguard against Covid-19 uncertainties, we have introduced a customer friendly Covid Guarantee scheme which allows our clients to book the trip without worrying about any Covid restrictions or border closures. In case of COVID-19 related travel restrictions issued by any government, you have the option of a full refund (with some exclusions like flight, train and cruise ship payments, whose refund amount depends on their individual cancellation policy) or to re-book your India Tour for future dates at no additional cost. These options are available up to 15 days before departure and is only valid for new tour bookings made from March 1, 2022.
We guarantee you a worry-free, seamless experience with our 24-hour support throughout your trip

Every one of our drivers and guides are fully vaccinated against the coronavirus

Vehicles and hotels with only the safest and highest health standards are used

We provide free disposable masks, wet wipes, and hand sanitizers for your personal use in all private vehicles throughout the trip

If your home country requires a COVID-19 test prior to your return, our office personnel will assist you in obtaining it

We will help you to get travel insurance and travel cancellation insurance, crucial in these times of the pandemic.
Roberta and Andrea from Brazil during their Golden Triangle India Trip
Tailor-Made Private Tour and One-on-One Travel Expert
You select the dates, experiences, destinations and accommodation and we will tailor your travel plan accordingly, taking every detail into account to ensure your every wish is fulfilled, as far as possible.
Your personal travel consultant will be available at all times before your trip commences to answer any questions you may have. We want our clients to feel completely safe, satisfied, and confident before they depart on their trip.
We are here to make your dream trip come true, up to the smallest detail. You let us know what you would like to experience and see, whether it is India's most historic monuments, cultural experiences, natural wonders, wildlife, or hidden gems, and we will start immediately on your own customized, liability-free tour plan with accommodation and experiences to realize everything you have imagined. You only have to make the final booking when you are one hundred percent satisfied; after all, this life-changing journey is yours and yours alone.
Our focus is on private trips to maximize the joy of traveling in India
You will have more time at the sights you visit

The guide and car will for your use exclusively

You will receive assistance by our representatives at airport terminals and railway stations

Travel in the comfort of a private car that can easily maneuver through narrow village roads

Experience walks with a personal guide, and visit artisans. Feast on meals in local restaurants and enjoy train and rickshaw rides

You have the freedom to explore sites in your own good time and can linger at places that pique your interest more.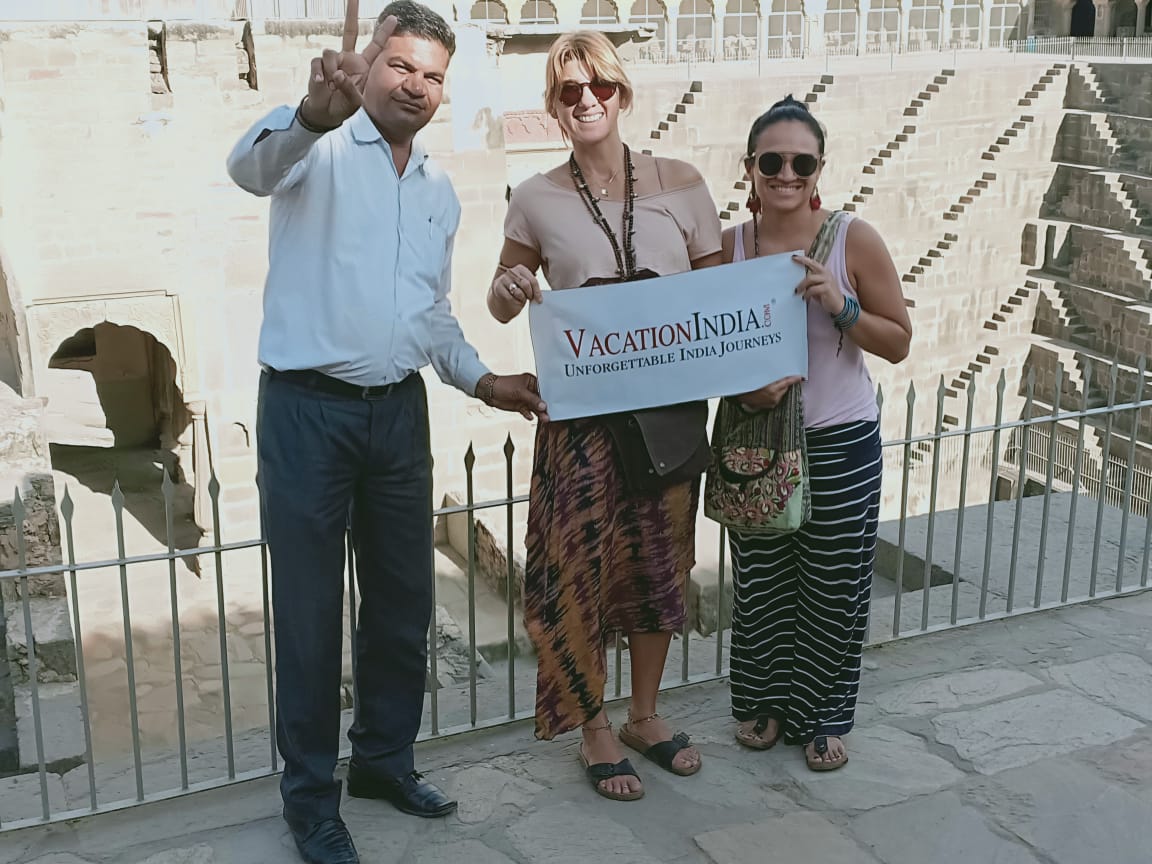 Clients pictured with driver Gulab Singh at the Abhaneri Stepwell. They did the Golden India Triangle Tour including 5 Nights on the Beaches of Goa
We Promise You Peace of Mind
We have sixteen years' experience in the travel industry and are specialists on India, Nepal, Bhutan and Sri Lanka

Despite the upheavals and difficulties that the pandemic caused world-wide, we can declare ourselves a solvent, stable company as we enter our second decade in the travel business. It is evident that we have weathered the storm

You may make changes to your tour plan as frequently as you wish, and completely free of charge before your trip is confirmed

Book your tour with payment of only 10% of the full cost of the trip. The rest need to be settled 30 days before the start of the tour, except prices for flights and certain cruises, which needs full payment in advance

No hidden costs: Our tour price clearly lists all inclusions and exclusions. All prices we quote are inclusive of all prevailing taxes in India. While India has become an expensive destination in South Asia, we offer you the most competitive prices for our tour programs. Not only are our tours excellent value for money, you will also experience more and get to visit more places of interest. But don't get us wrong! We never sell "cheap tours". You will stay in the best hotels, have the best transportation, visit the best sites, and eat the best meals.
Roman Mayer and Family from Switzerland during their trip through South India
Hand-picked Accommodation
All the hotels we book are centrally located, verified by us, and have received good reviews

We select our accommodation with care and only make bookings at hotels which meet our required high standards for comfort and quality. You can be assured of a pleasant stay at every destination, without any unwanted surprises

Our offer of hotels ranges from standard, that is 3-star category to the 5-star Taj and Oberoi hotel chains. Thus, we provide for every traveller regardless of their budget

We also offer a large range of interesting accommodation options, like treehouses, safari tents, royal heritage palaces and heritage homes. In some destinations you can also spend the night with a local family in their own home to get a glimpse into their traditional way of life

At the time of booking, we share with our client the list of hotels selected for the trip. If any offered hotel is not available for your travel dates, we will suggest an equivalent alternative and if you consent, we will go ahead with the booking of that hotel.
Kathryn Poynter and her friends from Australia during their trip through Mumbai, Goa and South India
Competent Tour Guides
Tour guides play an important part in the success of any India tour. Vacationindia.com offers our clients only knowledgeable, friendly, trustworthy and competent tour guides

We always make use of the services of local tour guides with at least three to five years' experience and who have been approved by the government of India. This means that you will have different tour guides at different destinations. Because they are from the area, you can expect first-hand, expert knowledge to turn every visit into a captivating experience. The same local tour guide will therefore accompany you to all the monuments, bazaars, palaces and other sights of that city

Local guides will also help you to find the best restaurants based on their years of experience and familiarity of the area. They will advise you on the best time of day to visit popular attractions when these are less crowded and you can enjoy the breath taking views. For example, our guides in Agra always recommend their clients to visit the Taj Mahal during the early morning hours to avoid the crowds who arrive from 9 am onwards. During such an early visit, you can expect your guide to be ready and waiting for you in the hotel lobby at no extra charge. He will take care of booking and purchasing entrance tickets, golf car tickets, etc. If you prefer to wander around and explore on your own, simply arrange a time and place to meet after your explorations

We have been using the same trusted local English speaking tour guides for many years and can guarantee their friendly service, expert knowledge and pleasant positive attitude towards our guests

Moreover, we and our tour guides are always flexible to make any last-minute changes at your request. If, for instance, your itinerary in New Delhi directs you to the world heritage site of Qutub Minar Complex, but you have changed your mind and would prefer to visit the National Museum of India, just inform your tour guide and he will make the necessary arrangements at no extra cost

If you would like to pay a visit to any additional monuments, temples or bazaars apart from your scheduled program that can be accommodated without any problem
Ana Picon, Jorge Fdez. Picon, Cristina Jerez from Spain during their trip through Rajasthan North India
Transportation with Your Comfort and Safety Our First Priority
When booking an India tour, people tend to focus mainly on guides, hotels, and itineraries. But we know that one of the top priorities is transportation. From your first pick-up on arrival in India, to traveling between the different sites, up to the point of departure at the airport we use a clean and comfortable vehicle with a friendly, helpful driver to enhance your visit. Vacation India endeavors to make your trip, including the transport as pleasurable as possible. Each of our vehicles has All India Tourist Permits. Our promise to you is that all of our vehicles are spacious enough for you and your luggage and well-equipped with comfortable seating and air-conditioning.
Every one of our drivers is an expert. He will reduce your walking distance by parking the vehicle as close as possible to your destination

Air-conditioning in the vehicle will be turned on before you get in by the driver, especially during cold winters and hot summers

Two bottles of water per person will be available each day

Safety and comfort are top priorities, and all our vehicles are required to run within the speed limit

Drivers are punctual and careful, ensuring that your possessions are safe

Our helpful drivers will happily assist you with boarding, as well as loading and unloading your luggage

We always use Toyota Crysta Innova or Sedans like Maruti Suzuki Dezire or Toyota Etios for the whole tour. India is a large country and you have to travel approximately 200 km daily because of long distances. That is why we only make use of good quality, spacious vehicles

Check our Tour Reviews and see the positive feedback from our clients.
Toyota Innvoa Crysta for people who travel with lots of luggage
One of our clients Dany Brown, her mother and aunt from Germany in a Toyota Innova Crysta. This car is ideal for 2 to 3 people travelling together
Perfect Management and Execution of Your Trip
We fall in line with the best global practices and therefore we take the training of all our staff and guides very seriously by providing high level and quality customer service.

Your private guide knows the opening and closing times of monuments and museums. He will do pre-bookings online to avoid long queues at rush hours

Your driver will inform you of the correct departure times when traveling from one destination to the next

The chauffer makes sure there is a supply of cold bottled water which is included in all our tours

He will also assist you with currency exchange into Indian rupees whenever necessary

24 x 7 Support: Your travel Expert will always remain in touch with you for any last-minute changes to your schedule, emergencies or requests during your trip. Even for late night and early morning international arrivals and departures you do not need to worry. Our competent office personnel and drivers will take care of it

Even if you do not carry a mobile phone, you can always contact us through the driver or guide who will have a mobile available at all times

Remember, we are just a call away if you need us.
Our Clients from Colombia and Spain pictured in Jodhpur. In the background is the Mehrangarh Fort. They booked the Rajasthan Tour with Pushkar Camel Fair
No Unwanted Shopping Detours
Gone are the days when you worry about stressful hassles and wasting your valuable time with guided shopping detours. You are guaranteed more time to visit important places with our No Shopping Policy. This eliminates any inconvenience or misunderstandings that may occur between you and your tour guide. We will make sure the only thing on your mind will be how much you are enjoying your vacation

Vacation India will make sure your itinerary does not include any unexpected and unannounced built-in trips to souvenir shops, handicraft demonstrations or any type of detours

If you do wish to go shopping, it will be our pleasure to take you to local shops of high quality where you will get the best bargains

At some places, we may recommend that you visit the local handicraft stores and trade centers to see a demonstration of how the local handicrafts are made, for example the marble inlay work in Agra, hand-printed textiles in Jaipur and a miniature painting school in Udaipur. Such arts and crafts form an integral part of the age-old traditions and display the cultural history of the region

Our guides and drivers get a small commission from your purchases. Please remember that this kind of commission is customary all over the world. It is simply part of good business practice!

It is quite possible that you will fall in love with some of the traditional Indian crafts. In that case, we will make suggestions of the best stores for such purchases and assist you to obtain exactly what you want. Souvenirs can be bought for yourself or as a gift for family and friend back home. Remember that purchases are totally at the discretion of the client. For more information, read clause 15.10 in Terms & Conditions

In case you do not want to visit any handicraft shops or attend any demonstrations during the tour, please inform your travel expert and we will inform your tour guides to avoid any shopping visits during your visit.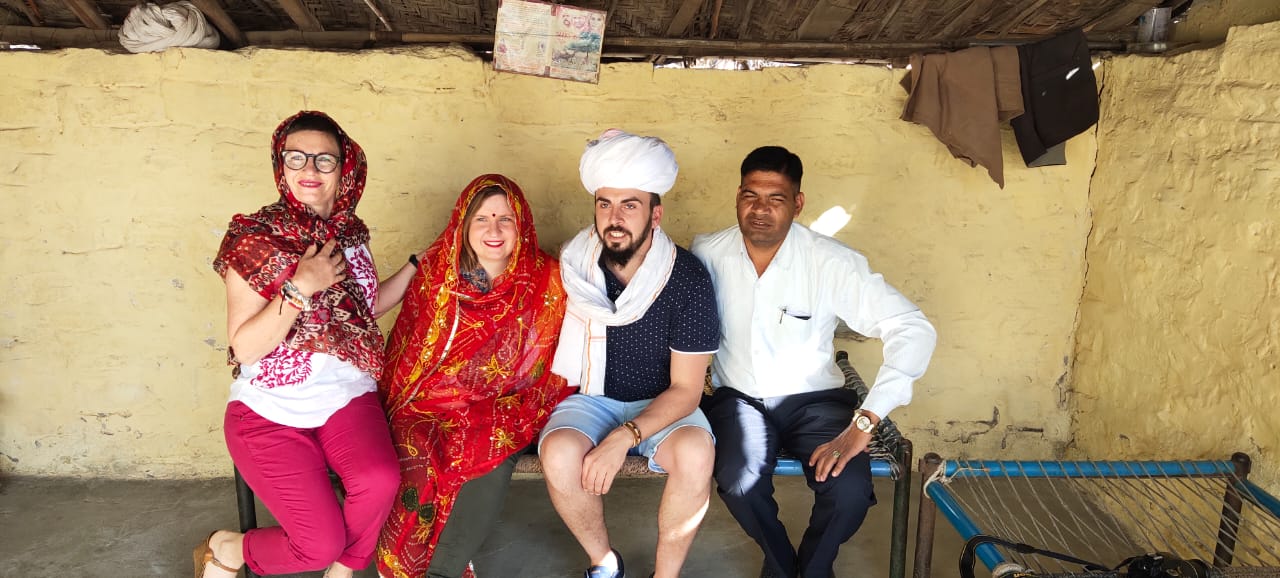 Maria Guadalupe Puig Roda and Maria Beltran Puig from Spain are photographed in traditional Rajasthani costumes in Bishnoi Village during their trip of Rajasthan and Varanasi
Your dream journey is waiting! A few clicks can make it all come true!

If you are overwhelmed by the choices and do not know where to start, have a look at our existing India tour itineraries for guidance. There are the always popular visits to South India and Rajasthan, and other favorites. Maybe you have been to India many times and are looking for something more remote and off the beaten track? You can tailor any of our favorite private tours to fit your own needs and wishes. Simply contact us and get a no-obligation consultation with one of our destination experts, who will assist you to work out your own personal, private India Tour itinerary.