Frequently Asked Questions Vacation India
Due to our many years of experience in the travel industry, we have drawn up a list of frequently asked questions to provide our guests with immediate, quick answers to make our website as user friendly as possible. Because of our firsthand knowledge of all the vacation destinations we offer, we are able to answer questions related to specific unique destinations, as well as more general queries.
We firmly believe in involving and interacting with our guests to discuss the various possibilities for a unique India vacation. If your question does not appear on the list below, feel free to contact one of our travel experts and you will receive the relevant information immediately.

↳ When is the latest I can send my booking?
✅ Hotels: We need your order at least three days in advance
✅ Taxis: One to three days are sufficient
✅ Tailor-made round trips with several destinations which include hotel accommodation, taxis, guide services, monument entrance bookings etc. We will need five to seven days.
However, we also accept bookings at very short notice. We will always strive and do our utmost to provide you with a memorable trip even with only a single day's notice. For such last minute bookings, we can unfortunately not provide guarantees, but in general we have always been successful. So nothing is impossible! Our team is always there for you. Just get in touch with us.
↳ From the first inquiry to the booking
Our website has extensive information about all the travel possibilities in India and our various tour offers. All tours provide comprehensive information on the many sightseeing opportunities in each region, so you can make informed decisions about exactly what suits your needs.
Our company offers tours to and specializes in trips to India and the neighboring countries of Nepal, Sri Lanka, Bhutan and the Maldives.
We have a number of highly trained experts with years of experience who are ready to plan and arrange your perfect dream trip to India. Simply send us an email or fill out our inquiry form; this does not commit you to anything. We will send you a detailed itinerary with the total price in less promptly. If you have any questions or would like to customize your itinerary, one of our team members will be more than happy to assist you. This gives you the freedom to include destinations you always dreamed of visiting. Just let us know your wishes and our professionals will take care of the rest.
You are welcome to book the international flights yourself. However, we will happily take care of that as part of our service if you wish. If you have already bought plane tickets to India, we can still offer to arrange your tour through India and book all the domestic flights. Your tourist visa for India can also be done through us; it is an online process and there is no need to visit an embassy or consulate in person any more.
Find all the necessary information about a visa for India here. If our travel offers appeal to you, please send us an email to info@vacationindia.com. Even after you have booked your vacation to India with us, feel free to contact us any time if you have queries about India Travel Tips, an India Visa or anything else. We are always available to answer all your questions.
↳ Do I need to contact you again before I depart on my trip?
Yes, please contact us again prior to your trip. This will allow us to accommodate any last minute queries, uncertainties or changes you want to make regarding your trip. We will send you an email with all the necessary travel information a few days before the start of your trip. This will include the following:
✅ On arrival at the airport terminal look out for one of our representatives holding a "vacationindia.com" sign. The sign will also have your name on it. You will be assisted to your car, transported to your hotel and helped with the check-in
✅ Our representative will also assist you to exchange currency on your arrival if necessary
✅ You can expect assistance to obtain a sim card for India for your mobile phone if you need it.
Always keep our 24-hour contact number handy in case of any emergency. You can call us on +91-9927465808 (+91 is the code for India) at any time day or night for any emergency. You can use the same number to make a WhatsApp call to us as well.
↳ Do your tours include airport transfers?
Yes, all our India tour packages include both domestic and international transfers. Transfers will be done in a private chauffer driven car. When you step into the arrival area, you will see a representative from our company holding up a sign on which your name appears.
↳ Can I get a tour guide who speaks German or another language for my tour in India?
Yes, for all the popular tourist destinations in North India, including destinations like Agra, Khajuraho, Varanasi, Delhi and the Rajasthan region you can easily get a English speaker or other language speaking guide for sightseeing tours. This might not be the case when traveling to other parts of the country, in which case we will provide you with a local English speaking tour guide. We offer services in:
✅ German
✅ Spanish
✅ Italian
✅ English
If you require a guide fluent in a specific language for your entire trip we recommend that you book an accompanying tour guide who is articulate in that language. Such a tour guide will travel with you in the car and be at your side throughout the trip. He will also accompany you on all domestic flights. This language tour guide service comes at an additional cost. Please contact us regarding the surcharge for an accompanying tour guide.
↳ Will I have the same tour guide throughout my trip?
Tour guides play an important part in the success of any India tour. Vacationindia.com offers our clients only knowledgeable, friendly, trustworthy and competent tour guides. We always make use of the services of local tour guides with at least three to five years' experience and who have been approved by the government of India. This means that you will have different tour guides at different destinations. Because they are from the area, you can expect first-hand, expert knowledge to turn every visit into a captivating experience. The same local tour guide will therefore accompany you to all the monuments, bazaars, palaces and other sights of that city.
Local guides will also help you to find the best restaurants based on their years of experience and familiarity of the area. They will advise you on the best time of day to visit popular attractions when these are less crowded and you can enjoy the breath taking views. For example, our guides in Agra always recommend their clients to visit the Taj Mahal during the early morning hours to avoid the crowds who arrive from 9 am onwards. During such an early visit, you can expect your guide to be ready and waiting for you in the hotel lobby at no extra charge. He will take care of booking and purchasing entrance tickets, golf car tickets, etc. If you prefer to wander around and explore on your own, simply arrange a time and place to meet after your explorations.
We have been using the same trusted local English speaking tour guides for many years and can guarantee their friendly service, expert knowledge and pleasant positive attitude towards our guests.
Moreover, we and our tour guides are always flexible to make any last minute changes at your request. If, for instance, your itinerary in New Delhi directs you to the world heritage site of Qutub Minar Complex, but you have changed your mind and would prefer to visit the National Museum of India, just inform your tour guide and he will make the necessary arrangements at no extra cost.
If you would like to pay a visit to any additional monuments, temples or bazaars apart from your scheduled program that can be accommodated without any problem.


Our clients from Mexico pictured with our Guide Madan in front of the Amer Fort in Jaipur
↳ How do I get a tourist visa for India?
You need a valid tourist visa and a passport valid for six months to enter India. Tourist visas for India can now be obtained online.
✅ No need to visit an embassy or consulate in person.
✅ You can do your own application or for a small processing fee, allow us to do it for you.
✅ You will receive your visa within three to five working days.
✅ We recommend a 30-day tourist visa for a single visit and a one year/365-day visa for multiple visits.
Citizens from almost all countries are eligible to apply for e-tourist visas. If you would like to apply through us, please email us at info@vacationindia.com, or fill in the Online Visa Form.
Visas for visits to neighboring countries like Sri Lanka, Nepal and Bhutan can also be obtained online.
↳ Why are not all the meals included on the trip?
Experience has taught us that exploring the local cuisine is an important part of the enjoyment of a tour through India and we all know that people have different tastes. Furthermore, we have found that many of our guests like the idea of exploring restaurants on their own or on the spur of the moment without prior bookings. Therefore not all meals are included in the itinerary.
A buffet breakfast is usually included in hotel accommodation. These breakfasts include continental and Indian dishes with extensive choices.
With a few exceptions, lunch and dinner are not included on our trips. There are exceptions, though. When traveling through remote areas like the Himalayas in Leh and Ladakh, in the National Parks, during stays in houseboats as part of the Kashmir Tour, or Kerala Backwaters Tour, all meals are included.
At other destinations you are free to choose your own restaurants, or ask your tour guide for recommendations for lunch and dinner.
On request, we can also offer you advanced bookings for dinner in all your hotels throughout the trip. Please contact us for the additional cost for such booked dinners. No advanced bookings for lunch will be done as our guests are often sightseeing or en route to another destination. For the best choices for an enjoyable, tasty lunch or dinner our guides or drivers are the ideal people to advise you, be it a fancy restaurant or more relaxed eatery. They can also recommend which local dishes to order.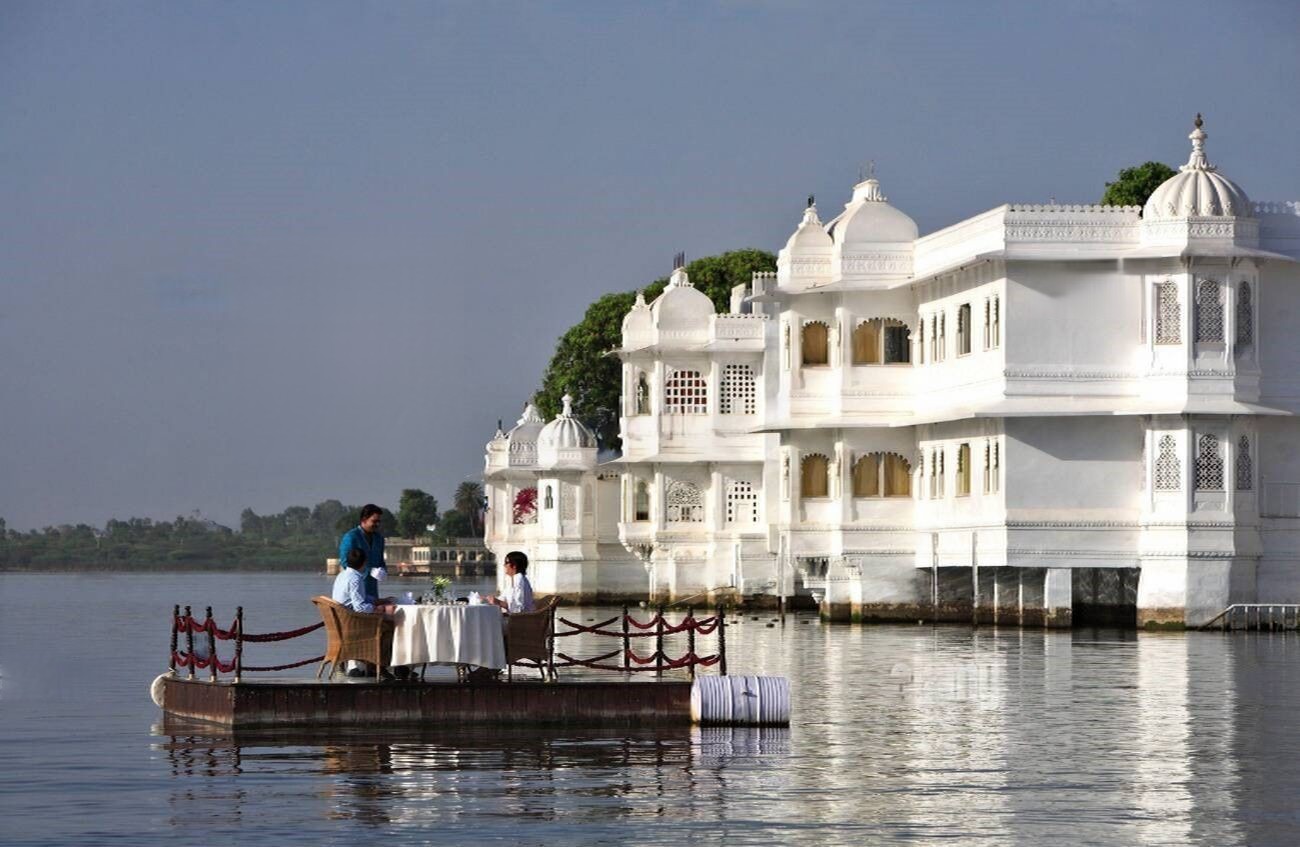 Tourists enjoying a special private breakfast on Lake Pichola in Udaipur Rajasthan, organized by the Taj Lake Palace Hotel
↳ Do you offer private tours or group tours?
All our tours are private and tailor-made. The car and chauffeur, as well as all local guides will be exclusively at your service.
We do not offer group tours, but of course, it you are a group of friends, relatives or photographers traveling together, we can arrange for a group of up to 35 people.
The reason why we concentrate more on individual, private tours is because these are much more custom-made to fulfill all our guest's expectations. A private tour allows us to pamper you, take better care of you, and to make sure you are happy and satisfied every step of the way. Here are a few more reasons why we prefer private tours:

✅ Route flexibility: Traveling as part of a group means that you are obliged to stick to planned schedules and routes even if they do not exactly agree with your own personal interests
✅ You have the freedom to explore sites in your own good time and can linger at places that pique your interest more
✅ Time saving: Group tours often waste lots of precious time; often the bus is forced to wait until everyone have emerged from their hotel rooms, who get lost in the ruins of a fort. It takes time for everyone to get in and out of the bus every time and taking care of a large group of people is an exhausting and often time-consuming exercise for any guide
✅ You can make last minute adjustments to the itinerary
✅ You do not have to adhere to the schedule and can choose to skip a museum to rather relax next to the swimming pool of your hotel
✅ You can decide to sleep in and start your day of sightseeing when it suits you
✅ You can hop into a stall or store for souvenirs and gifts any time you want
✅ Your private local guide can show you unique sites and take you to intimate restaurants otherwise impossible to visit with a large group of people. Guides of large groups are also often unaware of these gems as they are inaccessible to groups of that size.

When organized properly, like we always do, private tours can be a dream fulfilled and completely hassle-free since you do not need to worry yourself about details like transportation, accommodation, entrance tickets, opening hours etc., we can take care of everything.

✅ All our tours are perfectly managed and executed
✅ Your private guide knows the opening and closing times of monuments and museums. He will do pre-bookings online to avoid long queues at rush hours
✅ Your driver will inform you of the correct departure times when traveling from one destination to the next
✅ The chauffeur makes sure there is a supply of cold bottled water which is included in all our tours
✅ He will also assist you with currency exchange into Indian rupees whenever necessary
✅ Our office staff always remain in touch with you for any last minute changes to your schedule, emergencies or requests during your trip
✅ Even if you do not carry a mobile phone, you can always contact us through the driver or guide who will have a mobile available at all times.

↳ Is the cost of international airfare included in the cost of the tour packages on your website?
No, we do not include the cost of international flights in the itineraries on our website. The reason is that our clients usually prefer to make their own bookings using frequent flyer miles etc. However, if you would like us to arrange your international flights or suggest the best routes and times, we are happy to be at your service.
Please make sure that all regional and domestic flights, as well as other means of transport is always included in the tour price of your trip in India.
↳ Travel insurance
None of our tours include any type of travel insurance.
We recommend that you take out travel insurance in your home country. This is essential to make sure you are covered in case of unforeseen events. We are not able to arrange travel insurance for our clients as Indian travel insurance is not up to European standards. We also recommend you take out travel cancelation insurance so that you do not have to bear the costs in case you are unable to travel due to illness, employment issues, an epidemic or any such unforeseen events. Make sure you opt for a policy that will cover the total cancellation costs without deductibles. Do not neglect to also take out health insurance to cover the costs of any medical treatments you might need while traveling.
Today there are many companies that offer travel and health insurance at competitive prices and it is worth your while to arrange this before you depart.
↳ Do I have to book a complete tour with you, or can I ask you to book only my transportation like domestic flights, taxis etc.?
We offer complete tours packages that include accommodation, tour guides, domestic flights, train and boat rides and other transportation, visits to monuments and other places of interest, entrance fees, guided tours to bazaars, excursions and much more.
We do not offer bookings only for flights, taxis, trains etc.
You may choose to make your own international flight bookings, or ask us to do it for you.
↳ Can I extend my trip when I am already in India?
Yes, you can extend your trip after completion of your initial tour.
For instance, after your trip to Leh Ladakh Kashmir (Himalayas), you may decide at the last minute that you wish to visit the Taj Mahal or spend five more days on the Golden Triangle Tour (Delhi, Agra and Jaipur). We only need two to three hours to make all the necessary arrangements regarding hotel reservations, guides and transportation.
We can also help you to make changes to your domestic or international flight dates at a small fee. Just bear in mind that you are responsible for difference in fares, if any.
↳ Do hotels in India offer discount for children?
Usually two children up to the age of five can stay in their parents' room free of charge. Some hotels even allow children up to twelve, such as the Taj Hotel group, if no extra beds are required.
If you request an extra bed regardless of your child's age, an additional fee will be charged. This charge also includes breakfast. Some hotels provide roller beds, others sofa beds, as an extra bed.
Children over the age of twelve are treated as adults in this respect and you will be charged for an extra bed. In some hotels an extra bed is mandatory for children older than six.
Only one extra bed per room is allowed.
Different hotels have different policies, so please contact us beforehand with any queries.
↳ Is there a discount for children on domestic flights in India?
As a rule, tickets for infants up to the age of two are cheaper than the normal price. Children older than two do not get any discount on domestic flights and will have to pay the regular price.
↳ Food and drinks in India
The Indian cuisine is famous all over the world for its mouth-watering flavors and mind blowing aromas. However, you can expect Western (European) food to be available throughout India.
Breakfast is included in the tour price and comprises both continental and Indian dishes. Breakfast menu choices will depend on the quality of hotel you choose to stay in. Four and five star hotels offer a more extensive buffet with a variety of English, Continental and Indian dishes.
Lunch and dinner are not included in our tours except during houseboats stays, and in National Parks where all meals are included in the hotel or resort fair.
We recommend you stay clear of street food (except some well-known shops) as these dishes may not go well with western tummies.
If you are unsure where or what to eat, remember that our guides and drivers are always ready to recommend good restaurants with high ratings and hygienic conditions. Otherwise contact us at vacationindia.com to speak to one of our travel experts. He will be happy to give you advice about where to find the best curries and other local delicacies. India is a large country and every region has its own specialities. Typical dishes to look out for are the hearty Mughal lamb and goat meat curries, as well as chicken and meatball dishes in yoghurt sauce with rice or chapati (fresh wheat bread).
India's cuisine is predominantly vegetarian, which means there is a large variety of vegetarian dishes available throughout the country. Vegetarian options include paneer (fresh Indian cottage cheese) curries flavored with different spices, an extensive selection of vegetable curries, and an array of dahl, or lentil curries. Fresh yoghurt and boiled rice also form an important part of the Indian cuisine.
Tandoori cuisine offers tasty meals with paneer (fresh cottage cheese), chicken, meat and fish all baked in clay pots. Soft drinks to try are mango lassi which is a cold yoghurt and mango flavoured drink. Also readily available are packaged fruit juices, bottled water and of course cold beer. When buying bottled water, make sure the bottle has its original cap as tap water in not safe to drink in India. During your tour with vacationindia.com there will always be cold bottled water available free of charge.
The prices of alcoholic beverages and soft drinks are within normal limits.
For more information, refer to other relevant India travel tips.
↳ How much does an average meal cost in India? Can I pay with a credit card or do I need cash?
Meal prices depend on the restaurant and type of food you choose. An extensive meal in a good establishment will cost you around $10 to $15 per person, excluding alcoholic beverages. These are the type and standard of the restaurants we choose during your sightseeing trips.
Dining in a five-star hotel restaurant will cost around $25 to $35 per person.
All restaurants and hotels accept the major credit cards like Visa, Master, American Express, Diners Club, etc. Cash in Indian rupees is also accepted in all these eateries.
Many hotels and restaurants accept payment in Euros and US Dollars.
Always keep some rupees on hand for small restaurant bills or to pay for fruit, a beer, or trinkets in the market.
↳ Health and vaccinations
No vaccinations are required for India. You may consider malaria prophylaxis, and vaccinations against typhoid and hepatitis A. Malaria is transmitted by the Anopheles mosquito which is most active at dusk. We recommend that you cover up during this time of day with long sleeved cotton clothing that is as light in color as possible. Insect repellents are also a good deterrent and Odomos cream is easily available and cheap in India, while quite effective.
Note: The decision to vaccinate is a personal risk assessment. Consult your family doctor well in advance before any long distance trip and do this at least two months before departure. You can also seek advice from institutes specializing in tropical medicines.
Very important: We recommend that you avoid the following foods: salads, unpeeled fruit, ice cubes, and food and drinks from street vendors. Keep appropriate common medicines on hand just in case, for conditions like gastrointestinal distress, compensation for mineral loss, etc.
If you suffer from any ailment or disease, do not forget to bring along your regular prescription medicines. Also bring along your prescription as India is a manufacturing hub for medicines, and most formulas can be bought here.
↳ What are the accommodation and hotel categories in India?
You can select the different hotel categories for your entire travel program. Usually all rooms have a shower or bath and toilet. Most hotels do not have classic single rooms so individuals are usually accommodated in double rooms for sole use, which explains the sometimes quite high single room supplements. (Read more about this further on.) Relying on our many years of experience in the travel industry we choose to rate hotels ourselves, instead of relying on country-specific classifications.
We define simple and clean hotels as standard class. By 'standard' we mean a comfortable hotel with three stars (international classification). Under 'deluxe' we group all extremely well-kept hotels which will be awarded four stars internationally. 'Luxury' class hotels are super comfortable with tasteful furniture, a good location and the excellent service associated with a five-star level hotel. The 'super-luxury' class falls under the league of the best of the Indian Taj chain, like the Taj Lake Palace, Taj Umaid Bhawan, the Taj Mahal Mumbai and others. The prestigious Oberoi hotel group also falls into this category and include the Amar Vilas, Udai Vilas, Vanya Vilas and Raj Vilas. Another group in the super-luxury accommodation class is the world famous Aman hotels. Check out our Luxury India Tours with Taj and Oberoi hotel accommodation.
Another kind of accommodation is the Heritage Palace Hotels. Rajasthan with its 22 principalities was formerly the mecca of Indian nobility but the country's independence in 1947 brought about the end of the maharajas' power. They received another blow in 1971 when the prime minister at the time, Indira Gandhi cancelled all state allowances to the nobles. Many of them could no longer afford the upkeep of their huge palaces and were forced to convert them into hotels to avert total decay.
The result is a diverse selection of heritage hotels, which ranges from smaller houses to large luxury hotels. Many maharaja families stayed inside wings of their former residences, creating a particular authentic atmosphere. On Rajasthan Trip, we recommend that you stay in one of these hotels to experience the heritage and cultural history first hand. Some of the well-known heritage hotels in Rajasthan are Sardargarh Fort Palace, Deogarh Mahal Palace, Balsamand Lake Palace Jodhpur, Shiv Vilas Udaipur, Alsisar Mahal in Shekhawati, Khimsar Fort Heritage Hotel, Castle Mandawa, Phool Mahal Palace Pushkar, Bhainsrorgarh Fort Hotel etc.
Most hotels in India offer three-person or family suites. These may be occupied by a maximum of four people (three adults and one child) and are available in a variety of styles.
Most of the four- and five-star hotels have inter-connecting rooms. They have a door connecting the two rooms and are ideal for families with children.
You do not need to choose one hotel category for your entire trip. You are welcome to vary your accommodation and hop between categories. Since we have personally tested all hotels we are able to give you sound advice. If for instance you mostly stayed in four star hotels but in Agra decide to spoil yourself with an exclusive experience in the Oberoi Amar Vilas, just 600 meters and in view of the world famous Taj Mahal, it can easily be arranged. Because all our tours are private and tailor-made, a mix of accommodation levels is always possible.
↳ What exactly does 'single supplement' mean?
These days, hotels in general provide only double rooms. They may come in various sizes or classes of luxury, like superior, junior suite, deluxe, executive suite, etc. If a solo traveller is offered one of these, they are usually called 'a double room for single use' rather than a 'single room'.
The surcharge which a solo hotel guest who occupies a double room has to pay, is referred to as the 'single supplement'.
Therefore, if you are a single person occupying a double room, you will be charged for a fictitious second person as well, even if the second bed remains empty. Thus the payment for a double room is generally not divided by two when a single person rents it. This extra payment is called the 'single room surcharge' or 'single supplement'.
For instance, if the cost of a double room is $100, two occupiers sharing will each pay $50 to make up the total cost. If a single person rents the same room, he/she will have to pay the full amount of $100. The single supplement due is therefore 100%, while two people sharing a room each pays 50% of the total cost of the double room.
↳ What are the check-in and check-out times in hotels?
These times vary from hotel to hotel.
The common times are:
Check-in: from 12:00 noon
Check-out: before 12:00 noon
Nowadays many four and five star hotels have the following times:
Check-in: from 14:00
Check-out: before 11:00 noon
Many hotels offer early check-ins depending on the availability of the room.
However, these early check-ins cannot take place before 10:00 or 11:00 am. If you want to occupy your room before 10:00 you will be charged an extra half-day rent or even the full daily rent in some hotels, depending on their policy. The same applies to late check-outs.
Early check-in or late check-out is totally at the discretion of the individual hotels and vacationindia.com cannot confirm or guarantee its guests any early check-ins or late check-outs during the trip. We can, however, forward requests from our clients to the relevant hotels for processing.
↳ Tour guides in India
The tours we offer are 'experience' tours, not 'study' tours. Our intension is for our clients to get a better understanding and insight into the diverse cultures and everyday way of life in India.
An experienced local tour guide will be available to you at every destination during your trip. He will have good English language skills and will always strive for perfect service.
In case of group tours or on special request during a private, individual tour we can arrange for a permanent guide to accompany you. This will make it easier for you to overcome any language barriers and to maintain close contact with the country and its people. Our tour guides are happy to patiently answer all your questions as they arise during your trip around this intriguing country. All our luxury tours usually have an accompanying guide at all times. Be assured that all our guides have been carefully selected. We did not look for scientists, but for real local experts on Indian culture and the way of life in the region, people who are enthusiastic about their task and who enjoy sharing their knowledge and passion with our guests.
Apart from English speaking guides, we can offer the services of guides fluent in other languages including German, Spanish and Italian.
A special feature of trips through northern India is that the tour guide will invite you to visit to a center where some of the local handicrafts like textile weaving, marble art etc. are produced. This is usually followed by a visit to the exhibition and sales room. Tour guides receive commission on all purchases made by tourists. If this bothers you, please let the tour guide know and insist on leaving the store. You can also choose our tours 'without shopping' which will not include any shopping excursions or detours. This means you will not be taken to any arts and crafts demonstrations or any type of tourist shop. However, if you want to visit a specific store of your choice, the driver and car will be at your service. Always remember, your travel consultant at vacationindia.com is just a phone call away in case of any problems or requests during your India trip.
↳ Tipping and extra charges
Tipping is the order of business in India, similar to Europe and other western countries. Of course it is always up to your own discretion if and how much you want to tip. The following are a few guidelines on common tipping practices for tour guides, drivers, bellboys etc. All figures given are just an average and can be increased or lowered depending on the quality of the service.
✅ Permanent tour guide who accompanies you during the entire trip: $5 to $10 per person per day
✅ Local guides: $5 to $7 per person per day
✅ Driver of your car: $5 to $7 per person per day
✅ Naturalist and driver of safari Jeep in a National Park: $5 to $7 per person per day
✅ Hotel bellboy: $1 per bag
✅ Waiters in restaurants including hotel restaurants: 5% of the total invoice. If a 5% or 10% service charge is already included in the bill, no extra tip is required or expected. This is not the GST goods or service tax owed to the government. So, look carefully at the figures of your invoice before you tip.
As already mentioned, tipping is not obligatory and you are free to make your own decisions regarding this matter. Tipping is simply a way of expressing your satisfaction and gratitude for a service well done.
The performance of our tour guides and chauffeurs do not depend on the tips they receive.
During Christmas and New Year's Eve many hotels charge a mandatory surcharge of about 30 to 75 dollars per person for their gala dinners and in-house entertainment. The amount depends on the hotel category.
↳ Entrance fees
The entrance fees for all monuments mentioned in your tour itinerary are included in the tour price. Our guides will take care of all entrance tickets, you just need to keep your camera ready to click away.
The upkeep and maintenance of the numerous cultural monuments in India have resulted in the steady increase of entrance fees in recent years. This means that the total cost for entrance tickets to the various monuments may comprise up to 5 to 7% of your total tour price.