---
TRAVEL GUIDE TO INDIA'S WILDLIFE – CONTENTS
Tiger Census
Wildlife Naturalists And Guides In India
Best Time To Visit The National Parks Of India
When And How To Book Your India Tiger Safari
Choose The Best Safari Tour Operator
Grading
Weather Conditions In The National Parks
Food And Accommodation In National Parks
Tiger Reserve Closure During Diwali Festival
Tiger Reserve Closure During Holi Festival
Clothing Tips For National Park Safaris
The Objectives Of A Safari
Safari Schedules
All Central Indian National Parks Close On Wednesday Afternoons
Elephant Safari And Tiger Encounter
Our Wildlife Safaris And The Local Communities
Interesting Information On Tigers
Interesting Information On Global Tiger Day
Important Tips For Planning A Wildlife Holiday
Differences Between African And Indian Safaris
India And Wildlife Conservation
How To Spot A Tiger
Which National Parks To Choose
Other Wildlife Treasures In India
How To Make A Safari Booking
Can Wildlife Trips Be Customized?
Interested In Booking Your Wildlife Safaris With Us?
---
Mention India, and the first that springs to many people's minds are the lovely Taj Mahal, the Pink City of Jaipur, and bustling Delhi. But India is not only about its architectural wonders, ancient monuments, and shrines, it also offers everything nature lovers and wildlife enthusiasts can ever hope for. The country is littered with natural wonders; beautiful forests, lush river valleys, vast stretches of grasslands, and last but not least, exceptional wildlife. For centuries travelers have arrived on its shores to enjoy and study its magnificent landscapes, scenery, and abundant diversity of fauna and flora.
Travel Operators for Tigers or TOFT India's main aim is to conserve and protect tigers as well as their natural habitat, through sustainable, eco-friendly nature tourism. We have a long-standing relationship with the chairman Julian Matthews and have been sharing and supporting his principles wholeheartedly, as he has spent his life studying the wild regions of this country.
---
Tiger Census
India conducts a tiger census every four years, and according to the 2014 count, the tiger population has increased to 2,226 from the 1,706 counted in 2010. The previous census, in 2008 only counted 1,411. From this data it is evident that the serious measures to protect and conserve the tigers of India, first started fifty years ago, are bearing fruit.
Update: On World Tiger Day, July 29, 2019, it was announced that the 2018 census counted a total of 2,967 Bengal tigers, a significant increase in numbers. This means that the country managed to double the tiger population four years before its target set for 2022. The star state in this regard is Madhya Pradesh, where 218 more fabulous felines walk the land, bringing the total to 526.
2022 Update: The latest Tiger census conducted by the Wildlife Institute of India shows that India's tiger population increased to 3,682 in 2022, up from 2,967 in 2018. Three-fourth Tiger population i.e around 2765 Tigers live in National parks and Tiger Reserves.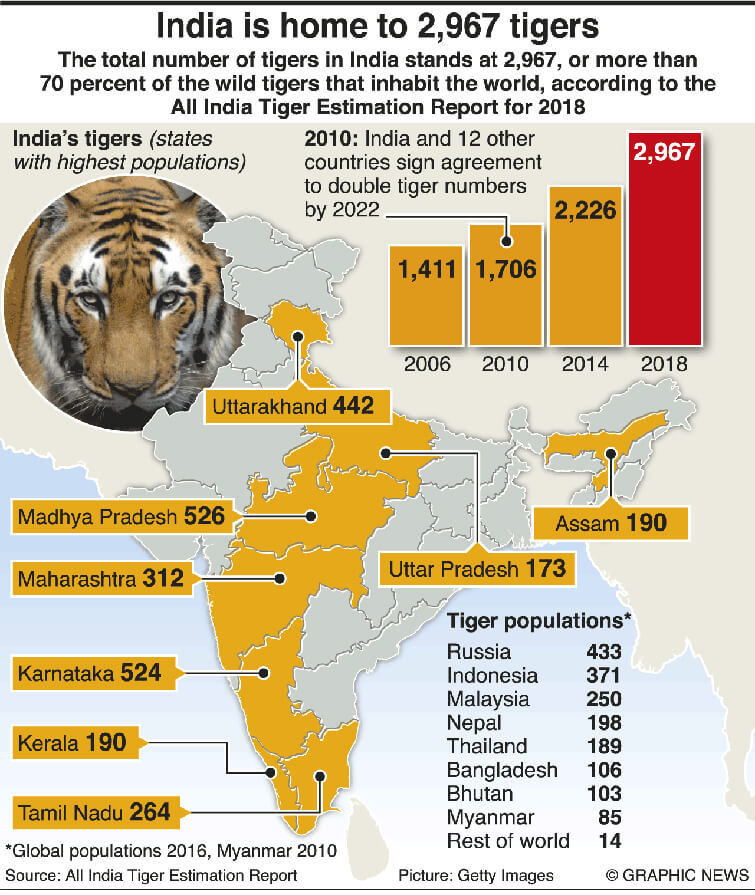 ---
Wildlife Naturalists And Guides In India
Guides appointed by the government will always accompany you on safaris, regardless of whether you have a guide from your hotel or lodge with you. They are there to enforce safety rules, making sure no-one gets out of the vehicles, ensuring all visitors leave at closing time, and assist in the search for tigers. However, if you need an expert in the field of ornithology, the environment, zoology, or related subjects, we can easily make the necessary arrangements.
---
Best Time To Visit The National Parks Of India
The reserves and national parks in India are open between the beginning of October and the end of June after the monsoon has started. If your main objective is to see tigers, February through April are the best months, as water sources are limited and the animals congregate at drinking holes. Vegetation is also less dense, making it easier to spot a tiger. You can also plan your trip for May, June, but just be aware that temperatures are quite high during this time. November through January is also rewarding, as the weather is good and the air clear. This is the time when the landscape is at its most scenic with lush vegetation, but that also means less probability of spotting wild animals.
---
When And How To Book Your India Tiger Safari
Permits for wildlife safaris in India are limited, and because they are so sought after, slots get booked out quickly. Most of the central and northern Indian National parks and Tiger Reserves have an online booking system. The booking for Safaris opens 120 days prior to the date of the Safari. It is strictly on a first come first serve basis. So, I suggest that you plan your India Wildlife vacation at least 5 to 6 months before the date of the safari, so we have ample time to book the best available safari zones for you. You need to provide your tour operator with the necessary ID (passport) details and pay the deposit at the time of your booking. There are a few national parks, including Sariska and Ranthambore, that accept bookings 15 to 60 days before the date of Safari.
---
Choose The Best Safari Tour Operator
Selecting the best operator to plan the details of your safari is essential for various reasons. National parks usually are divided into an outer buffer zone and an inner core zone. Most tourists favor the smaller inner core areas as the chances of sighting tigers and other wild animals are greater. With the increase in tiger populations though, these felines started to roam the larger buffer zones more frequently, with the result that tour operators now often consider these as high-density areas too. Each safari covers just one of the zones, so we make sure to vary the zones for your multiple safari trips.
You need an operator who knows which zones to book in each reserve, for the best results. But this is not nearly enough to ensure successful sightings, he also needs to be familiar with the sighting histories of the various areas. Conditions can change rapidly, so he has to be up to date with the latest information to satisfy your expectations. It is therefore important to enlist a tour company with years of experience who have their eyes and ears literally on the ground. This way you will not be disappointed and will get true value for your money. As we are in constant contact with the naturalists in all the parks and reserves, we have up-to-date information regarding the best zones to visit for tiger sightings. I have to stress that tiger sightings can never be guaranteed, but an experienced, trustworthy tour operator will know which zones in which reserves to book during which months. This will go a long way in meeting your expectations of encountering these magnificent beasts in the wild.
Grading
Safari tours are graded 'A' which means easy, as you will spend most of your time in a Jeep. Getting out of the open-top vehicles is not allowed inside the park, so walking is restricted to the grounds around the lodges. Safaris will be undertaken during the morning, afternoon, and evenings.
---
Weather Conditions In The National Parks
In the north and central India park temperatures vary substantially depending on the season and time of day. If your visit falls between October and March, especially November to January, the hours before sunrise can be very cold, so make sure to dress accordingly for your early morning safaris, as we use open-top Jeeps. There is usually a cold headwind on the way to the entrance of the park as well. Blankets are provided by the lodges, nevertheless bring a good quality windproof jacket, gloves, and a hat, and dress in layers. By the time we make our picnic breakfast stop, you can enjoy more pleasant temperatures of between 59˚ and 77˚F/15 – 25˚C. Temperatures increase starting March and continue to rise until May, then you will need a sun hat, sunblock, and cool cotton clothes. For further details about what to pack or the weather conditions, we are available to provide you with all the details you need.
Food And Accommodation In National Parks
All meals and accommodation are included while you are inside one of the game parks. During our stays in cities, for example, New Delhi and Mumbai, meals are for your own pocket. Meals in the park lodges and hotels usually consist of a buffet, serving Western and Indian food. You can always expect excellent service, and at some luxury resorts, you may ask the chef to prepare specific dishes to suit your needs. Typical dishes include soups, chicken, mutton or goat curries, a variety of vegetables, chapatis, rice, and of course a range of desserts. Both non-vegetarian and vegetarian dishes are available, and menus change constantly, so you will never get bored. Some hotels also include Chinese cuisine. One thing is sure; mealtimes in the parks will be one of the highlights of your visit.
---
Tiger Reserve Closure During Diwali Festival
This is an important date on the Central Indian festival calendar, and all parks are closed for a day or two during this time. That means that no safaris will be undertaken on these days, which may cause an interruption in your tiger tour schedule. Unfortunately, this is out of our hands, but to compensate we offer a visit to a nearby village where you can take part in the festivities and learn more about the traditions around this festival. Ardent birdwatchers can use the opportunity to study the many bird species on some of the short trails around the lodge grounds. Here are the dates for upcoming Diwali festivals: October 24, 2022 and November 12, 2023.
Tiger Reserve Closure During Holi Festival
In India, festivals are plentiful, but colorful Holi stands out for its joyful celebration of hope and happiness. During this time the death of Holika, a demoness, and the coming of spring are celebrated with much fun, and people of all colors and creeds leave their everyday lives behind to enjoy themselves with abandon.
As during Holi, reserves and parks will cease operations for a day or two. This will, unfortunately, impact on your tour itinerary and sightseeing safaris, but you may want to use the time to see another side of Indian life. Join the celebrations to learn more about this important religious and cultural event and the age-old Hindu traditions it embodies, while soaking up some of the contagious joy of the participants. If you prefer quietude, a day at the lodge will give you the solitude and peace you seek. Or connect with nature by going on a bird-watching walk around the grounds of the lodge. As traveling by road is discouraged while Holi is in full swing, we are not in a position to arrange alternative excursions. The dates for the next two Holi Festivals are March 18, 2022, and March 8, 2023.
---
Clothing Tips For National Park Safaris
Most important is that you dress comfortably for your safari tour. You will need to wrap up warmly in several layers during evenings and early mornings when temperatures drop dramatically during the month of November, December, January, and February. Light clothes of natural fibers are recommended for the warm summertime from March onward. Stick to neutral, natural colors like beige and khaki; you want to be as inconspicuous as possible, and not scare birds and animals off. You will need a wide hat as a protection against the fierce rays of the sun, and a scarf to wrap around the lower part of your face against dust. Your passport, sunglasses, sunblock, camera equipment, and binoculars should be on the list. It may be wise to include rupee notes for tips, your own water bottle, wet wipes, hand sanitizers, and tissues.
The Objectives Of A Safari
We would like our visitors, who are invariably keen nature lovers, to see as many species of animals and birds as possible. Of course, our main objective is to encounter tigers, but the parks are all home to large populations of other mammals, reptiles, and birds, some more evasive than others, and it is always a bonus to spot some animals on the endangered list, as well.
---
Safari Schedules
Schedules will differ according to the season, as they are dependent on sunset and sunrise. In summer, the gates open at 5:30 a.m. so we need to be ready to leave our lodgings 15 to 20 minutes earlier, to arrive on time. Your Jeep with the naturalist will pick you up from your hotel, so please wait on the hotel porch. At 5:00 a.m. coffee, tea and biscuits will be served. Summer afternoon safaris set out at about 2:30 p.m. and the average time spent on a game drive is three hours. All timings are subject to change at any time. Here are the schedules:
Winter (October – March)
Mornings 6:00 a.m. until 10:00 a.m.
Afternoons 2:30 p.m. until 5:30 p.m.
Summer (April – June)
Mornings 5:30 a.m. until 9:30 a.m.
Afternoons 3:00 p.m. until 6:30 p.m.
---
All Central Indian National Parks Close On Wednesday Afternoons
At present all reserves and national parks situated in Madhya Pradesh close on Wednesday afternoons, including Bandhavgarh, Satpura, Panna, Kanha, and Pench Tiger Reserves. This specific afternoon of our main tour will be spent traveling from one national park to another, so it will have no impact on our activities. However, in the event that the closure affects our itinerary, we will arrange alternative nature activities near the park in wildlife habitats nearby or you may just explore the Hotel facilities during Wednesday afternoons.
Please note that Tiger Reserves in Rajasthan like Sariska and Ranthambhore remain open on Wednesday afternoons.
---
Elephant Safari And Tiger Encounter
Kanha and Bandhavgarh National Parks offer a unique opportunity for tiger watching, called Tiger Shows. Domesticated elephants are used to track down tigers in the early mornings. As soon as they are found, tourist guides waiting in the Jeeps with their guests, are informed. After obtaining the necessary coupon from a forest ranger, to avert supplement payment, the vehicles converge at a spot close by. Tourists mount the elephants, not more than 4 to a mahout, and proceed to about 10 ft./3 m from the tigers. Elephants can safely approach tigers to within a short distance, without causing undue distress to themselves or these magnificent cats. The encounter lasts about 5 to 10 minutes during which you will get a close-up look at the animals, as well as the opportunity for some prize-winning pictures. You may even witness a tiger family devouring their kill, or drinking together at a water hole. Be aware that this opportunity depends on the success of the Forest Department and their elephants in tracking down tigers, but I am happy to say the normal success rate is around 85 percent.
There is the option of a full day safari on an elephant, four hours during the morning, plus three hours during the afternoon. Make a booking one month ahead of time, at which time you will be advised of the cost involved.
---
Our Wildlife Safaris And The Local Communities
Our policy is to employ people from the local communities exclusively, as tour guides. Not only can they lend spice to your experience with their profound knowledge of local folklore, but they are also familiar with the names of animals and plants, as well as the latter's use in traditional medicines. They can tell you all the local gossip, and the antics of the animals. When visiting remote villages, they act as our hosts, ensuring that our visits are a true cultural exchange, instead of a mere superficial invasion of the communities' privacy.
Interesting Information On Tigers
✿ Of all the cat species, tigers are the largest
✿ The Bengal tigers found in India's national parks belong to the species panther Tigris
✿ Around 75 percent of the wild tigers on the globe can be found in India
✿ The Royal Bengal tiger is the most numerous amongst the tiger species on earth
✿ Safari comes from 'safar', a Swahili word which means to journey. Europeans who visited Africa around the end of the 1800s adopted the word and changed it into safari. Today the word indicates an expedition or journey mainly for hunting, investigation, or exploration, usually with guides, equipment, and vehicles.
Interesting Information On Global Tiger Day
In 2010, during the St. Petersburg Tiger Summit held in Russia, the thirteen countries that have tiger reserves gathered and committed themselves to double the tiger population by 2022. Since then, the day is celebrated every year on July 29. A recovery plan, the Tx2, was drawn up to assist countries on how to achieve this goal.
---
Important Tips For Planning A Wildlife Holiday
✔India is one of the few places on earth where it is possible to observe tigers in their natural habitat. Since thousands of overseas and Indian tourists visit the parks annually, some of these wonderful cats have become somewhat used to the movement of vehicles and people. However, it is important to remember they are dangerous, wild predators that should always be treated as such. It always remains an immense privilege to view these majestic, elusive creatures outside a zoo. I suggest you allow yourself at least 3-4 days for a successful tiger sighting, that way your chances are good.
✔In my opinion, a visit to a tiger reserve should not be branded 'Tiger Watching'. I realize that it is most wildlife enthusiasts' dream to encounter tigers, but although they are the star act, it is such a waste to limit your experience to one species and neglect the rest. India's national parks offer so much more, and ignoring the fabulous variety of birds, reptiles and other mammals in the hunt for tigers is a sad, wasted opportunity. Instead of crisscrossing the park with eyes only for a tiger, stop near a water hole or lake. Sit back, close your eyes, and open your ears to the bush symphony of birdsong. Feast your eyes on the animals, great and small congregating around the water, watch the rays of the sun piercing the tree branches, and allow nature to fill your soul with beauty. This is what it is all about.
✔Never leave the jeep. Follow your naturalist's guidance, and always remember you are not in a movie where you can safely cuddle a tiger, you are trespassing on nature and her wild animals' terrain.
✔Keep the noise level down. Animals are easily startled and can go into defense mode, attacking your vehicle.
✔Jeep safaris that accommodate six visitors at most are preferable to twenty seater canters also used in Ranthambore. Kanha, Bandhavgarh, Panna, and Pench only do Jeep safaris.
✔Dust may be an issue as all the roads in the parks are dirt roads. Take some camera cleaning materials, and a good cover, especially for digital SLR'S.
✔We would like to keep the parks clean and unspoiled, so please make sure not to litter.
✔Generally, animals are much more sensitive to smell than humans, and the whiff of strong perfumes and deodorants might enrage them, so rather abstain from using anything with a sharp smell.
✔The main aim of establishing any national park is to preserve the natural wildlife, not to entertain visitors. The influx of humanity and the constant demands of tourists and guests place a heavy burden on the shoulders of jungle authorities and their staff. You will help them in their difficult task of maintaining order if you observe the rules of behavior as well as all the regulations stipulated.
✔To make the most of your visit, especially if you are a keen birdwatcher, bring a good pair of binoculars.
✔Keep your passport handy at all times, as there are checks at the entrances to the parks. If the officials cannot match your identity with your booking, you will be denied entry. Once you have entered the park, you will not be allowed to leave and re-enter if you forgot something at the lodge, so make sure to pack everything you will need for the safari.
✔To book a Jeep or Elephant safari, we need a copy of your passport, as well as payment in full, in advance. Bookings are done on the basis of first-come, first-served. Park authorities have the right to cancel safaris at any time. In that case be aware that deposits are non-adjustable, not transferable, and cannot be refunded.
---
Differences Between African And Indian Safaris
Do not expect a safari in one of India's national parks to be exactly the same as those in Africa. Generally, African safari trips are not bound by time schedules to the same extent as in India, and waiting for wild animals to show themselves for hours is not uncommon. In India, lodges and resorts are situated outside the park borders, and there are specific times allocated for safaris. So after each safari trip, you have to leave the park and return to your accommodation outside. Naturally, your enthusiastic guide will want to please his guests with as many sightings as possible in the shortest time possible, which might put him on a wild mission through forests and grasslands, in search of tigers.
India offers a much wider variety of accommodation near their parks, varying from the most luxurious to budget. We are all aware that you usually get what you have paid for, that is how life works. However, experience has shown me that all the places of accommodation are well-run and clean, regardless of their stars. For luxury accommodation in Kanha, Bandhavgarh, Pench, and Panna, the Taj group is tops. In Ranthambore, you can find Oberoi's luxury Raj Vilas. These upmarket resorts have expert guides and naturalists to accompany guests on safaris.
In India, you will be traveling either by train, airplane, or in a chauffeur-driven vehicle, and because this is such a large country, distances might seem overwhelming. However, the landscape is invariable beautiful and makes the road feel much shorter. Although many domestic flights operate between the main cities and those closer to the national parks, there will still be times when we have to take to the road, driving between different parks, and to and from airports.
The distribution of animal species in Africa and India varies. The African planes teem with herds of gazelle and antelope, less frequently encountered in India. But the sheer abundance of deer, including the tiny mouse deer and large sambar or swamp deer find in India, more than make up for it. Travelers to Africa always strive to tick off the so-called 'Big Five' from their list, namely lions, leopards, rhinos, elephants, and buffalo. India also has a 'Big Five' list, but they are not all found in the same region. For instance, Asian elephants can only be seen in the wild in northern parks like Corbett National Park, in the northeastern parks of Kaziranga and Manas, and in southern parks like the Mudumalai and Periyar Tiger Reserves, as well as in Kabini and Nagarhole National Parks. The greater one-horned rhinoceros only roam the parks of Kaziranga and Manas, while Asiatic lions are limited to Gujarat's Gir Forest. Leopards are more widely encountered, even on the outskirts of major cities, but are elusive and hard to spot. You stand a much better chance in Jhalana and Bera Jawai Leopard Parks in Rajasthan, and the national parks of southern Kabini and Madhya Pradesh's Satpura. Here there is also a good chance of spotting the real Bagheera, a glorious black panther (often sighted in Kabini Tiger Reserve). You do not have to travel far to view Indian bison or gaur, they are fairly widespread, for instance in Kanha and Kaziranga and numerous south Indian parks.
---
The Indian subcontinent has a secret up its sleeve, something not found in Africa. If you have read Rudyard Kipling's famous Jungle Book, you will have met Bhaloo, so if you would like to meet him in the flesh, pack your bags for India. Three different bear species live in India, the Asian black bear, Himalayan brown bear, and the sloth bear. The first two only stick to the northern mountains, but cute sloth bears are happy in all parts of the country. If you have an affinity for canines, the golden jackal is widespread. Large packs of the so-called wild or whistling dog, Indian dhole, roam the grounds of Kabini, and can also be viewed in Kanha and Pench. Shy Asiatic wolves are at home all over India but are difficult to spot, except sometimes on open farmlands in the southern parts of the country. As far as birdlife is concerned, India plays the leading role, the medley of variety is incredible. Just in the Jim Corbett National Park alone, more than 700 species have been recorded. Thousands of migratory birds fill the Indian skies on their way to and back from Africa, Europe, or other parts of the country, at various times of the year. So if you consider yourself a friend of the feathered flyers, you will be in bird heaven.
---
India And Wildlife Conservation
India faces many challenges, like poverty and pollution, and with a population of more than 1.35 billion it is not surprising, but after traveling extensively through many of the country's tiger reserves and national parks, I can honestly say that the country as a whole is doing just fine as far as the preservation of its natural habitats and wildlife are concerned. Animals are part and parcel of India's religions and culture, and many are considered sacred, for instance, the elephant deity Ganesh. Therefore, it follows that the country's rich wildlife is considered precious and a great source of attraction for many people.
However, most safari tourists have only one target in mind, to see the mighty Bengal tiger, the nation's national animal. Some might consider that one-track minded, even obsessive, but one thing leads to another, and a people who feel so passionate about their crown jewel, will inevitably also be out to save its habitat and fellow creatures. A while ago, a famous tiger killed a wildlife guide, the fifth attributed to him, and when the people learned that he was destined for the confines of a zoo, they were so indignant that nation-wide vigils were held. It is hard to believe, but a court case ensued, and although it did not win Ustad his freedom, it was remarkable to witness a nation's deep concern for this beast.
The death of any tiger, whether from natural causes or not, is splashed on the front pages of all the newspaper, in stark contrast with the African continent where one often hears of leopards, cheetahs, and lions being shot, trapped, or poisoned without so much as a frown, except conservationists. When Ranthambore's famous tigress, Machali died just short of her twentieth birthday, she even received a proper Hindu funeral. She was the oldest tiger ever recorded. You can read her full story in National Geographic under Tigress Machali or watch the documentary titled 'The Queen of Ranthambore – The Most Photographed Tigress in the World.'
The birth of a tiger cub is equally important to everyone in India and is widely reported. Here are some of the headlines:
July 23, 2022: Global tiger numbers rise to 4,500 in last 7 years. From 3,200 in 2015 to 4,500 in 2022
March 2020: Panna Tiger Reserve rejoices at the arrival of 3 tiger cubs
April 2020: Six-month-old tiger cub found dead in Pench Tiger Reserve
May 2020: Sariska's tiger population goes up to 20 with three new cubs
September 2020: Tiger reclaims territory after 11 years, kills rival
November 2020: Elusive black leopard spotted in MP's Pench Tiger Reserve
November 2020: Ultra-rare BLACK tiger is spotted in Odisha, India
The main battle these days is to balance the country's population growth with the maintenance and expansion of its wildlife regions, but with the whole populace behind the endeavor, I am confident that it can be achieved. India's tigers are facing a grand future.
---
How To Spot A Tiger
I have discussed India's 'Big Five', but you might have noticed that there is no mention of the main attraction everyone is out to see, the mighty tiger. The country's more than 50 tiger reserves fall under the auspices of Project Tiger, an initiative launched in 1972 to save and preserve the remaining tiger population, and of course their habitats. As previously mentioned, a tiger is a rare, elusive wild animal and not easily spotted, but there are ways in which you can tip the odds in your favor.
The more hours you invest, the better your chances, so I recommend a stay of at least three nights. Parks differ as far as their tiger density is concerned, and certain landscapes lend themselves to easier viewing, for example, in Bandhavgarh Tiger Reserve. The season is another determining factor; winters can be bitterly cold, and tigers come out into the open to warm themselves later in the morning, usually only after the last Jeep has left the park. Around mid-February temperatures increase and so does tiger activity. This is also the time when undergrowth dries out, and visibility is better. In May the mercury can rise to more than 40˚C/104˚F, but if you are not bothered by the heat, this is certainly the best time to watch tigers congregating at water sources to drink and cool off.
---
Which National Parks To Choose
Your best chances of meeting tigers are in the national parks of Bandhavgarh and Ranthambore. The latter is situated close to Delhi, as well as the popular Golden Triangle, making it quite crowded at times, so be prepared. Bandhavgarh has beautiful scenery and is renowned for its success in tiger encounters, but nature guides are sometimes over-enthusiastic, resulting in a wild chase after tiger sightings, while the beauty of the landscape and other fascinating wild animal viewings are missed. My personal favorites are Nagarhole and Kanha; not only do they offer great all-encompassing wildlife drives and birdwatching opportunities, but there are also opportunities for unique encounters with the local communities. If you are averse to crowds, Tadoba is less visited and a good choice.
Indian elephants are another popular attraction for many visitors, so if you want to combine that with your tiger safari you should consider Nagarhole and Bandipur, both in the south. Nagarhole especially is steadily increasing its tiger population, so you are bound to leave with some memorable pictures.
Many nature lovers long for a deeper engagement with nature and rural life. For those of you, I recommend a lengthier stay in Pench, Satpura, Panna, or any of the national parks in Madhya Pradesh. That will allow you time to unwind, and do your sightseeing at a relaxed pace, without the pressure of too little time, and too much to see.
Great opportunities for tiger encounters and sightings of a one-horned rhinoceros await you in Kaziranga and Dudhwa in the northern and northeastern parts of the country.
---
Other Wildlife Treasures In India
Do not allow the shining tiger star to blind you to the wealth of other wildlife treasures to be found in India, the scope of possibilities and opportunities are immense. The world's largest salt desert, the Rann of Kutch, has a surprisingly large variety of animals, like wild asses, blackbuck, Indian gazelle or chinkaras, striped hyenas, caracal, and spiny-tailed lizards. This salt desert may just honor you with a glimpse of the critically endangered Indian buzzard if you are lucky. Take a cruise in Bhitarkanika Park, and the rewards are plentiful; monitor lizards, saltwater crocodiles, and maybe a king cobra.
Namdapha National Park has a varied range of ecosystems and habitats since its elevation ranges between 650 ft./ 198 m and 14,700 ft./4,480 m. above sea level. Here you will find the endangered primate hoolock gibbon, and what distinguishes this park from others is that it is home to all four; common leopards, clouded leopards, snow leopards, and of course the mighty tiger.
Many wildlife photographers and zoologists have spent endless hours in search of the iconic snow leopard. These stealthy creatures keep to the higher regions of the Himalayan Mountains at altitudes of 8,940 ft./3,000 m to 17,720 ft./5,400 m. If it has always been you dream to see a snow leopard, head for parks at higher altitudes like Ladakh's Hemis National Park, Gangotri in Uttarakhand, the Khangchendzonga National Park in Sikkim, Jammu and Kashmir's Dachigam National Park, and Namdapha in Arunachal Pradesh. After 2017 the status of snow leopards has been adjusted from endangered to vulnerable, and today there are around 500 of these beautiful cats in India.
Glacial lakes with high salt content in Ladakh have their own unique habitats, and a visit will to these parts reward you with sightings of yet more critically endangered feathered friends, black-necked cranes. Other interesting animals that live here are Himalaya's wild asses and Tibetan wolves.
In some parts of Africa, rhinos are poached relentlessly for their horns but come to the eastern Kaziranga National Park to encounter rare Indian rhinos with one horn instead of two. Indian elephants are another popular species and to see them in their natural habitat, head north to the Corbett Park, or to the Western Ghats in Kerala to the Periyar Tiger Reserve.
Maybe the exhilaration of sitting in an open-top Jeep, searching for the fierce tiger is not enough for you? Then take your adventure to the next level with a canoe trip in the mangrove swamps of West Bengal's Sundarbans National Park, where tigers hide and may pounce any minute.
I have not even mentioned rhesus macaques, jackal, langur monkeys, and the numerous species of antelope and deer. And the birdlife in India is unsurpassed in numbers and range. No wonder many wildlife enthusiasts prefer India to the usual African safari vacation.
---
How To Make A Safari Booking
To book an India Wildlife Tour with us is easy, quick, and uncomplicated. Simply send us an email, or pick up the phone. We will need your passport details, including number, date of issue, and the expiry date, as well as your date of birth. Make sure this information is correct as no details can be changed after the safari bookings have been made, so if you get a new passport after you have booked your vacation, bring along the old one to gain entry into the National Parks.
Can Wildlife Trips Be Customized?
No problem, of course! You tell us your personal requirements and wishes, and we will make the necessary adjustments. All our India wildlife tour packages are flexible, so you, our customer, have the last say. In the past, we have for example accommodated guests who wanted to do seven safaris in four days or the same number of trips in five days. We have lots of experience, and will gladly advise you, offer suggestions, and answer all your questions. That is what we are here for.
Interested In Booking Your Wildlife Safaris With Us?
So, your interest is piqued. Contact us at info@vacationindia.com, or use the online inquiry form to get into contact with one of our specialists. You can browse through the wide selection of Wildlife Vacations we offer online.
---